Our Romantic Symphony Showdown selections are Dvořák's Symphony no. 9 From the New World and Mahler's Symphony no. 5. Read on for our deep dive into the Romantic Period.
---
The Romantic Period, which took place roughly between 1830 and 1900, combined the values of emotion from the Baroque period, with the individualism introduced during the Age of Enlightenment. The renewed emphasis on emotion that characterizes the Romantic period was a marked change from formality of Classical composition. Romantic composers also preferred a wider range of dynamics that blend seamlessly together, as opposed to the sharp, rigid contrasts of Classical music. Romantic music showcased expressiveness and passion and was deeply intertwined with other art forms of the time, including visual arts, theater, and literature. Iconic Romantic operas composed by Verdi, Wagner, and others combined all these art forms and became quintessential of the era.
Outside of music, Western society was transforming. The Industrial Revolutions of the 18th and 19th centuries provoked a new fascination with technology and science, leading composers to explore these themes in their music as well. Visual art also followed this transformation, shifting from Romanticism toward Realism during this period, provoked by a new interest in the simplicity of everyday life. Political instability in Europe led to the Second French Revolution in 1830, the Irish Potato Famine, and wars around the world. These events led many Europeans to flee to the United States, including some composers. Their travels inspired many groundbreaking compositions, for example, Dvořák's stay in the United States inspired his American String Quartet and New World Symphony.
FUN FACT: THE CONSTRUCTION AND VARIETY OF MUSICAL INSTRUMENTS CHANGED DRAMATICALLY DURING THE ROMANTIC PERIOD. THE PIANO EXPANDED FROM 5 TO 8 OCTAVES, WOODWINDS IMPROVED IN RANGE AND QUALITY, AND THE VALVE WAS INTRODUCED TO THE BRASS FAMILY. NEW INSTRUMENTS, SUCH AS THE WAGNER TUBA, WERE DEVELOPED TO CREATE SPECIFIC TYPES OF SOUNDS.
Opera exploded during the Romantic period, with composers utilizing folk tales, mythology, and even Renaissance stories to create their epic works and interpretations. Giuseppe Verdi transformed the Italian opera scene by shifting the subject of his work to nationalism or politics for the first time. Richard Wagner introduced the leitmotif: short melodies that represent a character, emotion, or theme in an opera. Wagner also restructured the format of opera from shorter sections of activity to longer, expansive acts. Wagner's strides in opera inspired many of his colleagues, including symphonic composers such as Mahler and Bruckner.
Beethoven is often cited as a transitional composer between the Classical and Romantic periods. His later works helped shape early ideas of the period by connecting music to nature and aspects of everyday life. Building off these works, Romantic tone poems and descriptive overtures became popular new outlets for composers to express emotions. Beethoven's "Pastoral" Sixth Symphony, which evokes themes of the countryside, is a prime example. Romantic compositions were often centered by an overarching theme or storyline, as in Wagner's The Ring operas and Tchaikovsky's Romeo and Juliet. These works also demonstrate how Romantic composers included repeated themes to represent characters and emotions in their works. The concepts of rubato and the Impromptu were also popularized by the Romantic period, allowing performers more creative liberty.
| | | |
| --- | --- | --- |
| | SPOTLIGHT: Romantic Composers to Know | |
ABOUT MAHLER'S SYMPHONY NO. 5
Gustav Mahler's (1860-1911) fifth symphony represents a significant transition in the composer's symphonic works. The composer's first four symphonies are written for voice and orchestra, while five through seven are written for the orchestra alone. The widely recognizable opening trumpet solo in no. 5—directly connected to the first movement of Symphony no. 4—also acts as a bridge for this distinct transition.
The five-movement symphony follows a dramatic path from the dark and tragic to joyous triumph. This journey is not depicted as an easy one, a fact amplified by the magnitude of the hour-long piece. The key of Mahler's Fifth Symphony is often discussed since it begins in C-sharp minor and ends in D major—one possible explanation being simply that the key change depicts the struggle to reach the victory in which the symphony resolves.
Watch this 2010 recording of Mahler's Symphony no. 5 below performed by the World Orchestra for Peace conducted by Valery Gergiev.
ABOUT DVORAK'S NEW WORLD SYMPHONY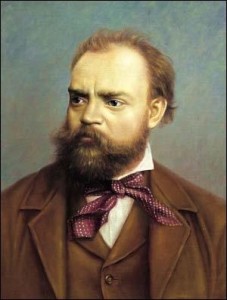 Antonín Dvořák (1841-1904) visited the United States in 1892 upon an invitation to create an American school of composition in New York. He was instantly fascinated with way of life that surrounded him in the bustling New World metropolis and spent every spare moment exploring. Dvořák was fascinated by Native American and African American music which, in turn, influenced the compositions he wrote while abroad.
Symphony no. 9 was composed within months of the composer's arrival in the United States. Critics have debated the influence of American music on Dvořák's compositions, including this symphony, as either an embodiment of American music styles or a representation of his homesickness. Regardless of the debates, audiences still admire the familiar melodies and vibrant final movement of the symphony, the whole of which is universally enjoyed.
Listen to this performance of Dvořák 9 by the Frankfurt Radio Symphony from 2018.
Want to learn more about our Summer Symphony Showdown? Read more about the event here!